Food, Hunger & Homelessness, Immigrant & Refugee Services
Families, Immigrants, Refugees or Ethnic Groups, Low-income communities
Age Minimum (with Adult): 14+, Minimum Age:17+
Food distribution volunteers needed! Every Tuesday 8am - 11am
Volunteers must be able to commit for a minimum of one month (4 weeks). Please select all four consecutive shifts by selecting "express interest" on each date you would like to volunteer. Remember to check your email for updates and spot openings.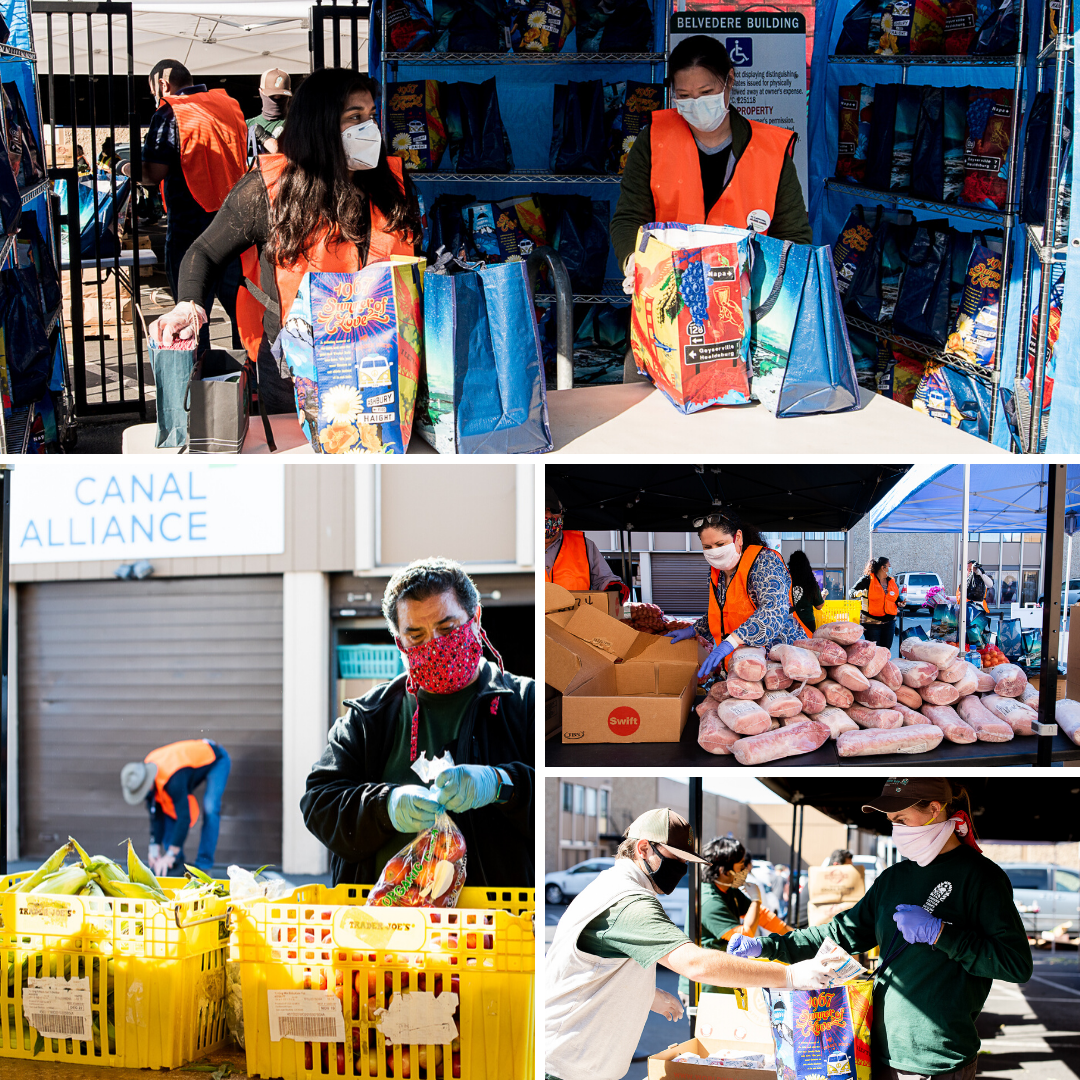 Who We Are
Canal Alliance exists to break the generational cycle of poverty for Latino immigrants and their families by lifting barriers to their success.
We are a nonprofit champion of immigrants who are challenged by a lack of resources and an unfamiliar environment.
We believe everyone has the right to achieve their dreams. Every day, we educate, empower, support, and partner with motivated immigrants to best meet all their unique needs—from putting food on the table, to becoming American citizens, to learning English, to graduating from college. Because when we support immigrants, Marin becomes a place where everyone can live, work, and succeed.
Program Overview
The Canal Alliance Food Pantry and Open Market offers fresh produce and packaged foods for hundreds of families in the Canal neighborhood each Tuesday. Each week, volunteers provide support in unloading food from trucks, stocking shelves, interacting with clients and handing out food in the walk-through system, and clean up and take down of the Open Market as it closes. This is a great opportunity for individuals, families and volunteer groups to interact with the individuals and families that Canal Alliance serves. Safe food handling principles will be provided by Canal Alliance staff.
---
Program Dates
Tuesday mornings starting from 8:00 am to 11:00 am.
Responsibilities include:
Attend Virtual Onboarding Training prior to volunteering.

Set up and breakdown the Food Pantry.

Provide support in unloading food from trucks and stocking shelves.

Oversee safety in the walk-through system.

Adhere to the safety procedures and protocols (training will be provided on-site).

Adhere to practicing social distancing.
Skills and requirements:
Spanish proficiency preferred but not required.

Must be able and lift 20-30lbs, job entails repetitive movements and bending.

Must be able to stand and/or walk for up to 4 hours.

Cultural competence in working with diverse populations, including communities of color, immigrants and persons of various ages, socioeconomic backgrounds, health status, and abilities.

Volunteers of all ages are welcome. Youth under the age of 16 must be accompanied by an adult 21 years or older. Minimum age to volunteer with adult is 14.
COVID-19 Volunteer Guidelines:
We ask that you please  do not  attempt to volunteer if you have:

Experienced symptoms that could be related to COVID-19 in the last 14 days.

Been around anyone who has COVID-19 in the last 14 days.

Traveled to any foreign country in the last 14 days.

Been on a cruise or been in an airport in the last 14 days.
Please wait...
Log in or Register
In order to register for this opportunity you must log in to an existing account or register to create a new account.
Signup with team
This link allows you to participate in this opportunity with a team. When you click on the link you will have the option to:
Choose an existing team you're already a member or captain of, or
Create a new team to sign up.
Signup Questions
Please respond to the following questions in order to signup for this opportunity:
Please wait...
E-mail