OUR MISSION: Foster an environment where all people grow & thrive through the arts.
OUR VALUES: All humans are blessed with creativity that thrives when nurtured. The arts in all forms enrich the human spirit.
WHO WE ARE & WHAT WE DO: Marin Society of Artists is a non-profit organization dedicated since 1927 to promoting the arts in our community. We partner with non-profit organizations and others to provide a broad array of arts opportunities. ​Our Main Gallery, Flex Gallery & Ground Floor Gallery showcase new displays of original art every month, most available for purchase. Ongoing programs at the Art Centre and in the community promote cultural enrichment and the arts in all forms. We support artists of multiple disciplines at all stages of their development, and foster activities that encourage the general public & under served communities to explore and incorporate the arts in their lives.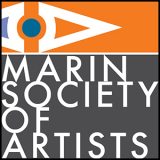 Families, Immigrants, Refugees or Ethnic Groups, LGBT (Lesbian, Gay,Bisexual,Transgender), Low-income Communities, People with Disabilities, Visitors & Travelers, Other